The most complete martial arts course & curriculum on the market.
"Go deep! With these videos you will learn depth and all the small details not just a superficial glossing over of each technique. With true understanding and practice, mastery can finally be yours. Countless customers have marveled over the high-quality instruction and overwhelming detail given by best selling author sifu Wayne Belonoha – often calling this series "the best and most complete martial arts course on the market".Presented as a single comprehensive online course, using a new platform specialized in delivering online courses, we've consolidated all sifu Wayne's work over the past 20 years.
This is not just a collection of videos. It's a full university style course with a real teaching curriculum.
The Entire Course
Using an easy to follow course format, you can now access everything from sifu Wayne. And we do mean everything - including previously unreleased video & new video only released here.
"An extremely well organized approach. Great videos and a detailed syllabus and 2 excellent books. My best purchase of any M.A. subjects."
"Outstanding instructional videos, the best ever!!!"
The course includes:
Video Lessons & In-Class Video Tips
Over 45 hours in 200+ core video lessons come from two sources (more on that later):

17 hours of professionally produced instructional videos from the 2010 Wing Chun University course. Restructured to align with the 108 step curriculum.
13 hours of professionally produced instructional videos from the 2015 BluRay Course.

30-90 Minute Workshop / Seminar Videos: All of sifu Wayne's workshops, present and future. Currently there are over 10 hours of workshops.
5-15 Minute Supplementary Lessons: All of sifu Wayne's supplementary videos
5 Minute In-Class Lessons: All of sifu Wayne's in-class video lessons (present and future) will be added to this course.
New video lessons and workshops are added regularly.
Books & Manuals
Over 1,000 pages of in-depth ving tsun instruction
Wing Chun Compendium Volume 1: Over 500 pages of in-depth ving tsun instruction and details from the course textbook, the Wing Chun Compendium Volume 1, in its original color PDF format.
Wing Chun Compendium Volume 2: A second 500 pages of in-depth ving tsun instruction and detail from the second course textbook, the Wing Chun Compendium Volume 2, in its original color PDF format
Sifu Wayne's 100 page student handbook with great supplementary information about kung fu, Chinese customs, related parables and stories, and more.
All future written products by sifu Wayne will be added to the course
Quizzes, Homework, Discussion, Exercises & Other Instructional Aids
Quizzes & tests
Reading and Essay Homework, with online discussion topics
Physical practice activities for each step
Skill assessment rubric
Online question & answer forum exclusively with sifu Wayne. Aaron - as a side note this is a big value we didnt talk about yet. Each step has a "comments" at the end where people can post questions that I will answer. As long as people stay subscribed they get access to this content as well.
ALL OF THIS AND MORE - ONLINE IN ONE COMPREHENSIVE COURSE
About the Course
With personal confirmation from uncountable ving tsun resources, sifu Wayne has painstakingly documented and tested the most complete ving tsun curriculum. Other schools and teachers have pieces of this curriculum but not all. Yet others have all the pieces but not taught in order, leaving confusion, impossible gaps, and inefficiency. Few schools and instructors have the full program, and after 20 years of stress testing, detailing and optimizing, sifu Wayne brings each detail to you.
The Course: contains multiple overlapping programs.

108 Step Curriculum: walks you through the whole course, and all its programs, step by step.

9 Levels: the curriculum is broken into 9 levels. These levels represent the sashes or grades to help you measure your progress through the curriculum.
Here's a diagram of the whole course to help illustrate the path and programs. This is the same program I use at my schools in Atlanta and Calgary! If you want to learn a martial art or any self-defense, don't just accept a group of videos or some basic techniques for random attacks. Make sure you have no gaps and can handle any situation by learning all the programs in an efficient and trusted manner.
Playing golf (or any sport) will serve as a good example. Sure you can learn a few tips for getting out of the sand or for chipping onto the green. But if you never want to take a big risk, then you need to train from a program that teaches you to fill in every gap. And when talking about your safety, I don't recommend taking big risks by leaving obvious gaps in your defensive strategy.
Here's our comprehensive course outline.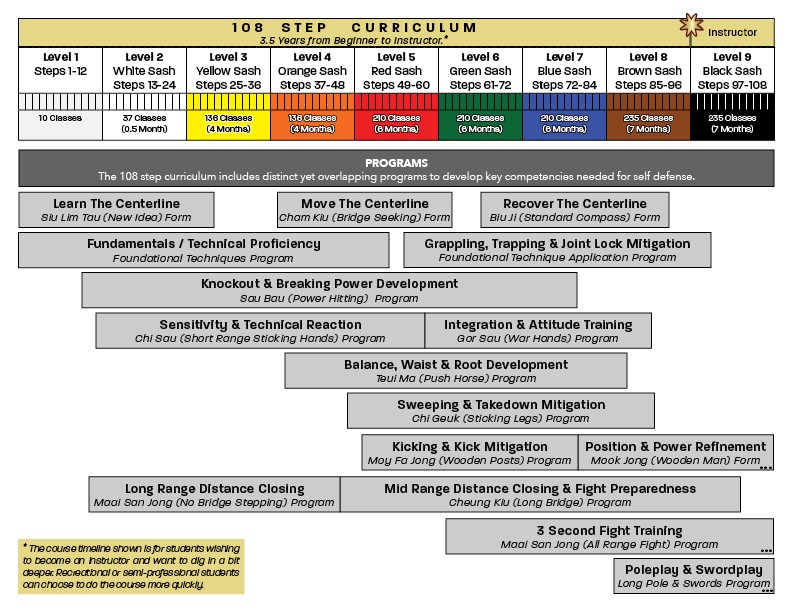 Core Video Lessons Come From Two Sources
Completed in 2010, the WCU course teaches BY PROGRAM. While praised by people who wanted to learn one complete program from beginning to end, just studying one program left strategic gaps (and you know what I think of those). So in 2016 I made a new set of videos structured by CURRICULUM STEP. There are 9 disks - one for each level.
For example: to again use the golf analogy, the 2010 course organized by program, would have videos dedicated to learning Putting, then Pitching, then Getting Out Of Bad Lies, then Driving. All necessary components of the game.
The 2016 course is organized as it would be taught if you were to take a golf course at a university; step by step, day by day.
About the BluRay Lessons
The 9 Blu-ray Discs (BD) were painstakingly filmed and edited to professional standards, made up of over 4,000 unique clips, terminology, idioms, tenets, key concepts, summary dialogues, "Notes to Self", over 100 different transitions, extremely funny gag graphics, and other artifacts. There is even a special easter egg hidden in the Blu-ray disc set where sifu Wayne demonstrates the highest of skills.
There is no duplicate footage in the Blu-Ray disc set - every explanation, demonstration, and detail is new. Changes in the way a subject is explained or new demonstration will surely help with your understanding. Each of the 108 steps is made up of 5 sections:
1 Teach / Demonstrate / Learn
2 Common Mistakes
3 Applications (street or chi sau)
4 Drills / Follow Along / Demonstration
5 Homework / Additional Reading
You will get sifu Wayne's entertaining brand of funny-because-it's-not-funny humor alongside straight facts and intelligent, logical, clear explanations that you can actually understand and believe in. The explanations are easy to comprehend and the demonstrations are done both slowly and at a practical speed. If you want to learn, you're in the right place - skill is knowledge applied if you want the skill you need the knowledge. The Blu-ray discs follow the known principles of wing chun, so our unbiased lessons will provide you with useful details regardless of what wing chun style you train. If you are looking for entertainment with speedy-flashy movement, drama, dragons/flames, cursing, simulated violence, or a style where every move is "extreme" - well, we don't do that. Teaching and entertaining are different.
Each step also uses a unique "Reality Score" system which will let you know how close this drill aligns with the final goal of using it on the street. The score is based on a formula of precision, sensitivity, environmental stability, and drill complexity. As the simple, uncomplicated, discrete skills you learn integrate into each other and are performed with greater accuracy in a more challenging and dynamic environment the "Reality Score" goes up. The scale goes from 0% which is part practice of key skills or elements of a larger technique where focus is on skill development to 100% where all the compound skills needed for fighting against a trained and uncooperative opponent are practiced.
Our open classes are essentially a "coached practice" session - where students work together on the skills that need developing and sifu Wayne will give corrections or details or perspectives to help with understanding and progress. When the current skills have developed to a point where they can be combined or where they can support another piece, that new piece - the next step in the curriculum - is taught. When we teach that new step, it includes the 5 sections shown above - the 4 or 5 key points, mistakes to watch out for, a demonstration and the associated drills, how the technique is used, and homework. So we took exactly what our students learn and put it on Blu-ray disc for you.
Too much information at the early stage of practice can leave you overwhelmed. We strive to give you enough that you can learn by exploration and ask questions. As time goes on and you get better, we will offer the pinpointed corrections or details to keep you going in the right direction or to clear up physical/mental roadblocks they might have.
I hope you enjoy and learn a ton from this set of lessons.
About the WCU Lessons
The WCU lessons take a fundamentally different approach to teaching in an effort to help you learn most effectively. Instead of following the curriculum step by step, the videos give an "A-la-Carte" approach. You can choose a program and follow that subject only from the beginning of the system through to the end. The WCU provides shorter supplementary videos which provides the answers to the questions you will have while training plus those subtle corrections or details or perspectives to help with understanding and progress. And while the lessons on the Blu-ray disc also contain some of the supplementary materials, the WCU also has the flexibility to contain more detail about topics like philosophy, approach, strategy and mindset.
Trying to learn Wing Chun from a thin book or DVD can be very frustrating. Most teachers are good at explaining a specific form, technique, or position, but they fail to explain the bigger picture, how everything interrelates, and they really fail in teaching you HOW and WHAT to train for maximum effectiveness in your workouts. Other Wing Chun training sites are the same way - they just re-hash old DVDs or similar videos. We are different.
Sifu Wayne's course offers the entire system, covered in 49 twenty-minute* videos, for a total of over 1,000 minutes of top-quality kung fu lessons. Now you can finally use our proven training methods to accelerate you through the natural Wing Chun learning process. You now have the ability to learn the entire Wing Chun system online. In addition, you are told what to train and how to train so that you obtain Wing Chun mastery as quickly as is possible.
About the Wing Chun Compendium V1
"No more waity time for the weighty tome." - sifu Wayne.
This 528 page hardcover tome is the manual for Wing Chun students of all levels. It covers the three hand forms and examines each movement in detail, providing explanation of each. Over 500 Pages with more than 700 high quality black and white photographs, with each movement and application well described and illustrated.
Detailed explanation of all hand forms, drills, techniques, and philosophy.
Single and double sticky-hands drills and techniques.
Over 100 Pages dedicated to Wing Chun theory, philosophy, and life.
800 idioms explained to help you progress to the next level.
Learn secret pressure points of Wing Chun.
Forward and special article "Siu Nim Tau - After 35 Years of Study" by Grand Master Sunny Tang.
Best purchase I've made so far
"Everything is dealt in great detail and also describe very well to easily understood, what is not described in words is shown in the pictures"
Great addition to the library.
"Fantastic and well written."
Very Awesome!
"There is so much in this book. I love it! This book is going to grow old with me. I can see myself passing it along to one of my grandchildren when the time comes."
A Must
"This book is a must for any practitioner of Wing Chun."
About the Wing Chun Compendium V2
This is the second volume of The Wing Chun Compendium, a 435 page hard cover manual for Wing Chun students of all levels. Together, the two volumes of The Wing Chun Compendium offer a complete guide to the discipline, from theory and philosophy to drills and forms.
In this volume, author Wayne Belonoha takes students to the next level, focusing on the three final and most advanced forms of the Wing Chun system and their associated skills: the "Mook Yan Jong" or wooden man; the "Lok Dim Boon Quan" or six-and-a-half point long pole; and the "Baat Cham Dao" or eight-cut sword form, demonstrated here for the first time by Grandmaster Sunny Tang. Also included are distance and angle improvement drills, fighting strategy and training, instructions on proper body mechanics and "sticking hands" techniques.
While intended for the serious practitioner, The Wing Chun Compendium Volume Two also teaches the basics of body movement, psychological components of practice and performance and how to use martial arts for overall self-improvement - factors that can help any martial artists seeking to enhance their physical and mental development. The book includes hundreds of tips and techniques as well as 400 photographs.
"The reader holds in his or her hands a masterful and scholarly work. Sifu Belonoha has put together one of the most comprehensive books ever written on the Wing Chun system of Chinese Kung Fu, a book that provides both the devotee and the uninitiated with a rich tapestry of cultural, historical, philosophical and technical information about this incredible fighting art. His own Sifu and sihing-dai would be very proud of his efforts to preserve this knowledge. I am very pleased to have been asked to read the manuscript and wholeheartedly recommend this outstanding resource." Sifu David Peterson, author of Look Beyond the Pointing Finger: The Combat Philosophy of Wong Shun Leung
"Effectively compiling the vast knowledge behind the art of Wing Chun is a daunting task, and even harder is presenting that knowledge in a manner that teaches effectively to all levels. I have seen and read almost every Wing Chun book ever written, and in my opinion, no one has done this better than Sifu Wayne Belonoha in the Wing Chun Compendium series. This second volume is a valuable reference tool for anyone in the Wing Chun family, and I have no doubt you can pick this book up and learn something new to help you refine your training." Aaron Cantrell, founder of Everything Wing Chun (www.everythingwingchun.com)
Things You Will Need
It will be very helpful to have a partner. Although many of the health and self defence benefits are still easily within reach, one cannot reach the highest levels of ving tsun without a partner with which to practice, train, and test.
Dit da jow
Swords
Dummy
Long Pole
(optional) other training aids as you see fit